---
The secret is in the blank design
Low-modulus graphite is used for the tip section aiding smooth hooking, mid modulus and low-modulus composite for the belly section provide both tensile strength and elasticity, and high-modulus kevlar graphite provide the butt section which is powerful enough to fight a fish and bring it up to the surface. For example the 70MH rod is targeted as fish of 20kg class like Dolphin Tuna and Skip Jack.
ROD No.

Length

Grip
Length

Line

Lure wt

Weight

MAX
LOAD

Pack
Length

KGS-
510L

5'10 "

460mm

- 16lb. (PE4 number)

- 48g

164g

5kg (45°)
3kg (90°)

140cm

KGS-
68M

6'8 "

570mm

- 16lb. (PE4 number)

- 60g

203g

6kg (45°)
4kg (90°)

154cm

KGS-
70MH

7'

600mm

- 20lb. (PE5 number)

- 100g

266g

6.5kg (45°)
5kg (90°)

161cm
All type grip removal and re-installation type 1 piece specifications
Blank material: It is low, the medium elastic graphite + high elastic Kevlar graphite. The bat guide in boundary, as for the blank colour in the sea surface bright/fresh the metallic silver colour which is obtained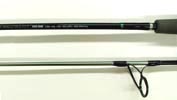 Guide: All the type Fuji Sic guide installing. As for 510L 68M in top guide and bat guide as for ocean guide and other things single foot guide. 70MH installing the ocean guide with the double lapping.
Grip: As for grip EVA grip of all the type removal and re-installation types. As for reel seat nonslip process rise lock specification

Part: The metal ring adoption which designates the blue as keynote (the front grip section)
---
(C) Copyright and 2006 SMITH LTD. All rights reserved.